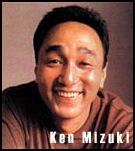 "Furniture can be of innovative design without restriction of creativity"


A native of Japan, Mizuki emigrated in 1987 to the United States where he became involved in cabinet making before developing his namesake line of furniture. Mizuki first presented his "Furniture as Art" collection in 1996 which included over 100 handmade pieces, many with combinations of exotic rare woods. He currently resides in New York City with his wife Lynn Daly and their dogs.

Ken Mizuki is a pioneer in the emerging field of "furniture as art." His line of furniture and accessories express his distinctive personality and love of whimsy. Mila Andre had written in the Daily News that " Japanese designer Ken Mizuki's wooden furniture was among the most whimsical works seen in years. " Mizuki combines a talent for the fanciful with imaginative designs and shapes, thereby, creating unique, one-of-a-kind, as well as signed and numbered limited editions.

In addition, Mizuki's home interiors and installations are highly sought after, clients waiting up to a year for a mahogany library, den, handcrafted fireplace or possibly an exotic and rare wood 18-foot entertainment center.

His " furniture as art " can be found in over 10 prominent New York restaurants and private collections worldwide. Headquartered in New York City, Mizuki's home interiors are located in New York City, Long Island and New Jersey.